Full Speed Plumbing & Drains offers professional plumbing repair and installation services for homeowners in Marysville, Washington and the surrounding areas. To get started, give us a call at or request your service online today.
When a DIY plunging job isn't enough, call the experts at Full Speed Plumbing for all your maintenance, repair, and replacement needs in Marysville, WA!
Full Speed Plumbing in Marysville, WA
In the 1920s, Marysville's well-established agricultural reputation gave it the nickname "Strawberry City" for the plethora harvested in the fields. Every June, the town commemorates this title with the Strawberry Festival and Grand Parade. However, unlike the controlled floodings of the late 20th century that kept the land fertile, there's no excuse for indoor water issues with top-notch plumbing services in Marysville, WA.
Full Speed Plumbing of Snohomish County has as rich a history as Marysville, with three trusted companies combining expertise to offer plumbing services in the area. It started in 2014, with Bohannan McKenzie running Anacortes Plumbing. Four years later, it evolved into Parson's Plumbing, merging with McKenzie Plumbing, a family-owned and operated plumbing business.
Inspections and Maintenance
Why schedule bi-annual plumbing inspections? It handles worn, punctured, or corroded pipes as soil shifts or tree roots or critters burrow into the line. If our team notices slow-draining water or backups, we use a camera feed checks for clogs and plunge the pipes.
Drain Services in Marysville, WA
If plunging a line doesn't suffice, we'll perform other drain services in Marysville, WA. Rooter service or snaking pulls clogs back up through the fixture using a hook, or it tears it apart so that the buildup flushes easily into the municipal sewer lines. For more powerful drain clearing, hydro jetting uses pressurized water to disband clogs. It also washes grease and mineral buildup off the pipe walls to keep accumulation at bay.
Drain Repairs and New Installations
Between inspections, you may notice some of the following signs that your Marysville system needs urgent repairs:
Discolored, bad-tasting, or sediment-filled water
Water stains on floors, ceilings, or walls
Leaks from faucets or around fixtures
Frozen pipes
Limited hot water
Low water pressure
Sewage odors
Curing punctures or replacing small parts like snapped seals and broken valves solves most issues during plumbing services in Marysville, WA. However, installing new sewer or water lines becomes inevitable when the pipe material is already decades old.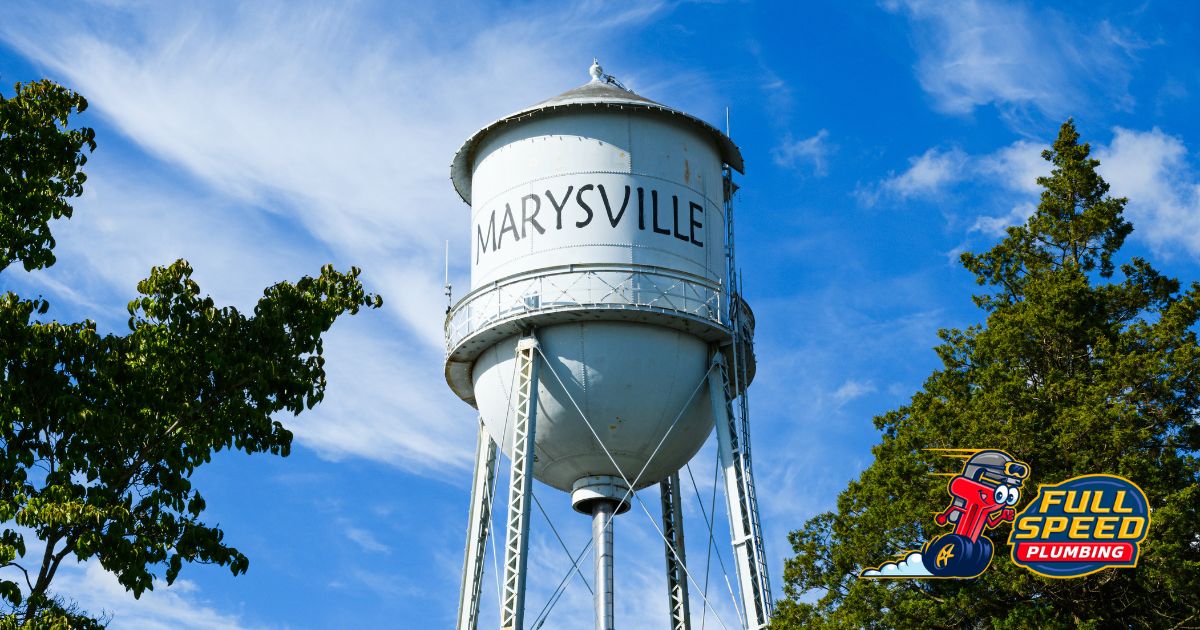 Sump Pump Installation and Maintenance
Some Marysville areas, including downtown along the Snohomish River and Ebey Slough banks, are only five feet above sea level. That's why we encourage all Marysville property owners to install a pedestal or submersible sump pump in the basement's lowest elevation, where water pools first.
During our annual sump pump maintenance visit, we'll do the following to ensure your sump pump functions optimally:
Check for corrosion
Lubricate the bearings
Remove debris and standing water from the basin
Inspect the float switch and discharge pipe
Test it by running it for one cycle
The flood risk in Marysville is considerable, and a working sump pump is a necessity.
Sump Pump Repairs and Replacements
Is your system over seven years old? Does it cycle irregularly or fail to extract water despite constant repairs? It likely needs replacing, and our trained team can quickly and professionally do the job! Sump pumps cannot pump water if clogged, low on power from a tripped source, or housing a dying motor. Like maintenance, sump pump repair in Marysville, WA, entails cleaning the basin and drain lines while replacing broken parts.
Water Heater Installations and Maintenance in Marysville, WA
Water heaters work year-round but become life-saving when Marysville's winter temperatures dip to 34 degrees. We install all types, from tankless heaters that save on fuel to conventional heaters for larger families that require an endless hot water supply. We'll tuck it away in any unused space and inspect it annually to ensure it operates quietly at high efficiency.
Water Heater Repairs and Replacements
Our plumbing services in Marysville, WA, also include repairs. Call us if you notice the following:
Limited or no hot water
Leaks around the unit
Water taking too long to heat
Banging and other unusual noises
Water heaters typically last around 20 years. Once they reach a certain age mark, the system can begin providing rusty water or leaking water. Let Full Speed Plumbing make the water heater replacement process a breeze to maintain your home's comfort!
---
Helpful article: Why Is My Water Heater Leaking?
---
Water Treatment Services in Marysville, WA
Sometimes, rust-colored water isn't a water heater issue—hard water harbors chemicals and minerals. It produces scale and sediments in pipes and water heaters, clogs appliances, and causes unpleasant-tasting water. If so, you need water filtration to remove contaminants through reverse osmosis or a softener system that replaces minerals with chemical ions.
Call Full Speed Plumbing for All Your Plumbing Emergencies!
When your plumbing goes awry, so does your comfort. Call Full Speed Plumbing for 24/7 five-star plumbing services in Marysville, WA, and surrounding areas today!