Full Speed Plumbing & Drains offers professional plumbing repair and installation services for homeowners in Mount Vernon, Washington and the surrounding areas. To get started, give us a call at or request your service online today.
Full Speed Plumbing of Skagit County offers a wide range of affordable and reliable plumbing services in Mount Vernon, WA. If you need immediate services in Washington or want to schedule a consultation, call or fill out our online form.
Our Mount Vernon Plumbing Services
Having a working plumbing system is vital for Washington residents, making daily activities like cooking, cleaning, and bathing possible. At Full Speed Plumbing of Skagit County, we have experience resolving the most common plumbing concerns, improving homeowners' current systems, and replacing worn parts. Whether you need to book an annual maintenance appointment or have an urgent repair, let our experienced and kind team help you!
Mount Vernon Plumbing Repairs
You should address plumbing repairs, big or small, as soon as you notice them. We can often resolve minor problems quickly, while other issues may require more lengthy work. Regardless, you can count on our detail-oriented plumbers to never miss a beat, tackling many repair issues like:
Broken or burst pipes
Decrease in water pressure
Sewage or drain backups
Difficult or constant clogs
Discolored, dirty, or sediment-filled water
Struggling pipes and plumbing system
If you notice any of the above symptoms, you'll likely benefit from having our experts take a look and perform immediate repair services. We won't consider your repair project finished until you're completely satisfied! It's our job to resolve your concerns, so we go above and beyond to ensure we do just that.
Plumbing Maintenance & Inspections
If your plumbing system works great and rarely experiences problems, why would you need maintenance or inspections? Inspections allow professional plumbers to identify any issues in your system. Our specialists can detect hidden issues, improve how your plumbing operates, and make sure your plumbing works at peak efficiency. You're less likely to experience unexpected and inconvenient surprises down the road.
Schedule your maintenance plumbing services in Mount Vernon, WA, at least once a year to stay on top of issues. We can clean your drain lines, replace expired parts, and remove unwanted buildup. You never know what is happening inside your plumbing until a professional takes a look!
Plumbing Installation
When your old pipes aren't doing the trick anymore or are severely corroded, you need plumbing installation services from Full Speed Plumbing. Our plumbing installation goal is to replace and install components that will prevent the need for future repairs. Whether you need us to install one small part or replace a major aspect of your system, let the plumbing experts on our team sort it out fast!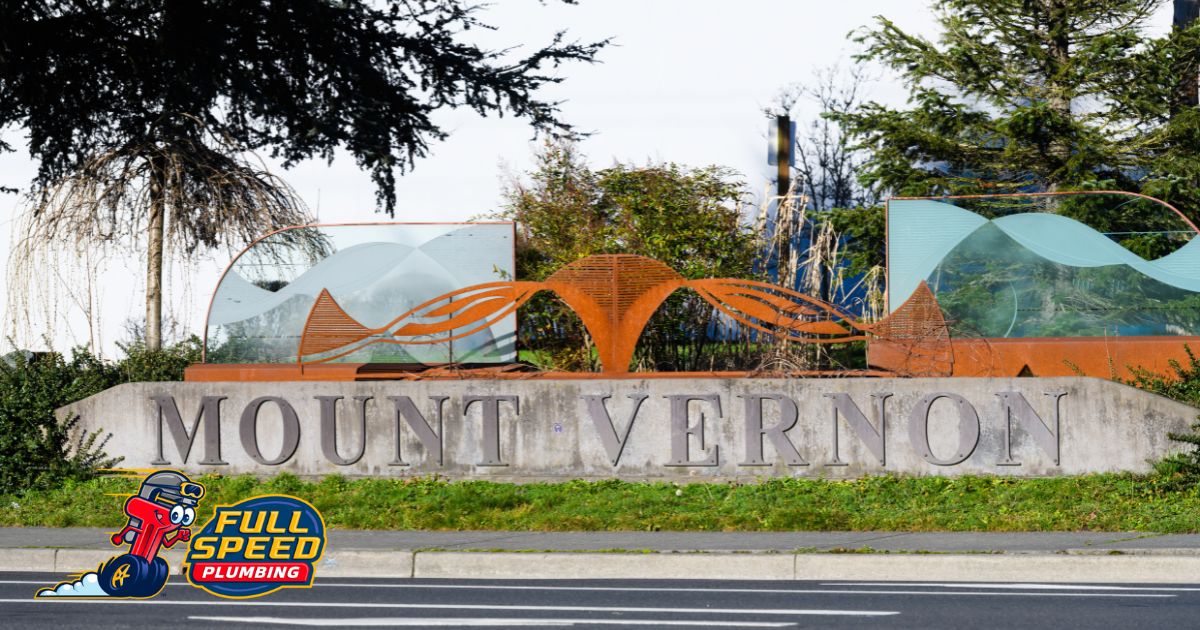 Water Heaters in Mount Vernon, WA
Are you happy with how your current water heater is running? Many Washington residents are switching from stationary water heaters to tankless systems because of their dependability and energy efficiency. Full Speed Plumbing offers numerous water heater services for your needs, such as:
Water heater installation
Water heater maintenance
Water heater repairs
Sump Pump Repair in Mount Vernon, WA
Without your sump pump working properly, your home doesn't have the best protection against interior flooding and water backups. Washington experiences a lot of rainy weather, so keeping that extra water out of your home is critical to avoid serious issues. Some signs you should contact our experts for Mount Vernon sump pump repair are:
Rusted sump pump
7+-year-old appliance
Loud noises and vibrations
Inability to stop running
Sump pump is not turning on
Other sump pump services we offer include replacement and inspections. Prepare your sump pump for year-round use by working with our experienced specialists. We only use the best parts, brands, and materials for our work and commit to high-quality services for every job!
Drain Services in Mount Vernon, WA
Your sewer and drain lines are places of transportation for your plumbing system. Clogs, rust, and wear can wreak havoc on these lines and prevent normal use, but our plumbing experts can help. Not only will our thorough plumbers inspect your lines, but we may also use small video cameras to examine the most difficult issues and backup sources.
We also offer rooter service and hydro jetting to keep your system clean. Common obstructions that may harm your pipes and the operation of your plumbing include hair, unwanted objects, food, and grease, but our state-of-the-art technology safely tackles it all.
Connect with Full Speed Plumbing for Quality Mount Vernon Plumbing Services!
Full Speed Plumbing has 24/7 availability for comprehensive plumbing services in Mount Vernon, WA. If you're unsatisfied with your system or suspect something isn't right, don't hesitate to contact our caring team. Call us at or fill out our brief online form today!