Full Speed Plumbing & Drains offers professional plumbing repair and installation services for homeowners in Tacoma, Washington and the surrounding areas. To get started, give us a call at or request your service online today.
For excellent water heater, sump pump, drain, and plumbing services in Tacoma, WA, contact Full Speed Plumbing of Pierce County. We're always on time, personable, and stop at nothing to produce excellent work. Call our team at or request a service by filling out our short online form.
Our Tacoma Plumbing Services
You should be able to receive all the plumbing services you need from one company, and at Full Speed Plumbing, we're your one-stop shop! From plumbing inspections and installations to maintenance and repairs, our dependable team offers these services without compromising quality. With countless five-star reviews from past customers and a positive reputation in Washington, you can count on our plumbers to handle it all.
You should call us for a plumbing consultation or repair services if you notice any of the following:
Foul-smelling odors from your pipes or drains
Lack of hot water
Severe water leaks and sewage backups
Poor water pressure
Clogged, broken, or frozen pipes
Problems using your sinks, toilets, or showers
Plumbing Installation
When it's time for plumbing installation, our plumbers are here to help. Some plumbing systems benefit from the replacement of old or corroded parts, so we swap them out for upgraded and durable pieces. Plumbing pipes experience a lot of wear and tear and clogs from time to time, but our team will install resistant, long-lasting, and top-quality replacements.
Plumbing Inspections & Maintenance
If you've never scheduled a plumbing inspection before, now might be the perfect time! Just because plumbing issues aren't obvious or haven't made themselves known doesn't mean they aren't there. A professional plumber can detect signs of degradation or damage and determine the appropriate next steps to take.
We also offer maintenance that may include repairs, cleaning, and clog removals. Maintenance can go a long way and prevent small concerns from escalating into major headaches. Our plumbers come prepared with all the necessary tools and parts we might need.
Plumbing Repairs
Don't let the need for plumbing repairs in Washington intimidate you; just call Full Speed Plumbing for a fast and effective solution! Our team tackles repairs by inspecting your system thoroughly and determining the cause of the problem. We note the severity of the issue and figure out how to address the problem while taking steps to prevent future concerns.
You can count on us for emergency plumbing services in Tacoma, WA, such as if your plumbing suddenly becomes backed up or isn't operating correctly. The knowledgeable plumbers on our team typically have everything necessary for repairs on-hand, helping us complete your service on the same day. We also examine every step we're taking during the repair process.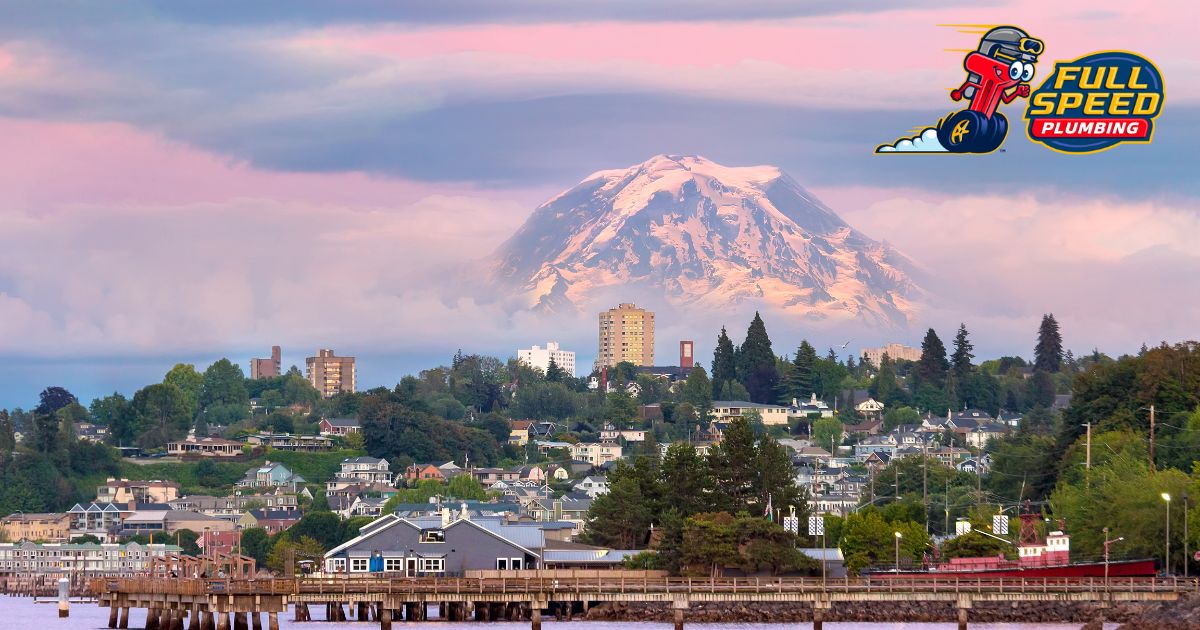 What Sump Pump Services Do We Offer?
You need a reliable sump pump to prevent your home from flooding or experiencing a severe sewage backup. As soon as you suspect you need sump pump repair in Tacoma, WA, give us a call. We also offer replacements and inspections to ensure your system is in optimal, fully-functional condition.
We work on the following:
Pedestal Sump Pumps
Combination Sump Pumps
Battery Backup Sump Pumps
Submersible Sump Pumps
Water Heaters in Tacoma, WA
Water heaters are essential to enjoy a steady supply of hot water, especially during the cold winter months. If you're looking for quality installation services, repairs, or replacements, get in touch with our trusted team. We can service traditional water heaters and updated tankless units and deal with many common problems, such as:
Water leaks
Cold water
Lengthy water warm-up time
Extreme water temperatures
Lack of or poor water pressure
Colder weather stresses the need for an operational water heater, so consider scheduling an annual inspection appointment. Neglecting your water heater leaves it up to chance on if it will work when you need it to. Enjoy peace of mind by talking to our skilled staff and keeping your system in check!
Our Drain Services in Tacoma, WA
It can be difficult to know what's going on inside your drain or how you can improve your plumbing system. Fortunately, Full Speed Plumbing helps Washington residents deal with unseen problems the right way. You can book a wide range of drain services in Tacoma, WA, with us, such as:
Hydro Jetting
Rooter Services
Sewer Line Installation & Repairs
Water Line Inspections & Repairs
Contact Full Speed Plumbing Today!
Are you looking to book top-rated plumbing services in Tacoma, WA, from Full Speed Plumbing? Our experienced staff is well-equipped and prepared to handle anything you need. You can request a service online by filling out our online form or calling our team at .